Professional Tweaks, Tips & Reviews By "AJ" Picarello

I hope you find my Tweaks and Tips section helpful. If there is something you want to know about, send me an email and I will try to add that to one of my upcoming articles.
Avalanche has released hydraulic bottom out cones, similar to the cones they use in their high end DHF fork, for the Marzocchi 888 forks! These quality parts mount inside the forks lowers and slow down the ending stroke bottom out with hydraulic pressure.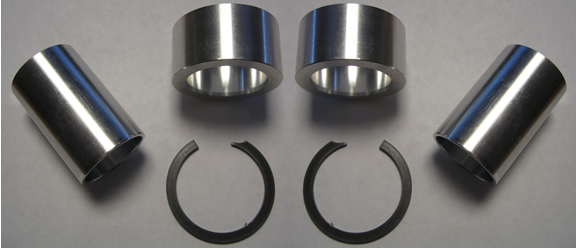 With the Avalanche tapered cones installed, harsh bottom outs are a thing of the past. Finally your DH fork can be set up soft for supple performance without any worries of destroying the fork on the big hits!
I tested the cones on my 2007 Marzocchi 888 RC2X. I had an entire season on the fork without the cones. Like all Marzocchi forks I have owned, the 07 888's bottom out is harsh. I'm sure most of you are familiar with the metal to metal clank that alerts you that you have used up all 8 inch's.
I took this same 07 fork off a G out on a local training run that always bottomed my fork. Many times my wrists would hurt from the impact. I prepared for the worst, suddenly, no bottom out, at least no perceived bottom out. Upon closer inspection, my fork used up 7 7/8" travel.
Buyers/Riders should know that with the cones installed, 7 7/8" travel is all you get. The cones take up a bit of space internally, but this issue is a small price to pay for the performance upgrade.
So there you have it, the cones do the job! I have beaten my fork to death trying to bottom it out "clank" style. The Avalanche cones simply take the hit and butter out the forks bottom out. This upgrade is a must for aggressive riders. You will ride with more confidence and less wrist fatigue. Both races and freeriders will benefit from this modification.
The AVA Advantage 888 Bottoming cones can be installed at DOWN Cycles!
1 Update
You are not authorized to write a update.